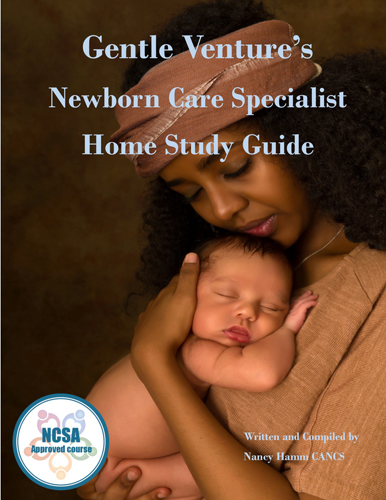 Gentle Ventures has taken on a new task. We are combining 30-day home study with a once a week live video with Nancy Hamm (Q & A and instruction) for the budget-conscious student, Once again at the forefront of the industry.we were the first to have online classes over 10 years ago and now the first to bring the Online Study Group to the industry. This class is approved by the NCSA and Accredited by the IMPI. Pleae note this class sells out so don't wait to sign up.
Not only does this give you the opportunity to learn how to care for newborns, it also gives you a community for support. Meeting once a week, you may ask questions and have a chance to be further instructed in baby care. Using Zoom allows you to meet each other in person establishing bonds and friendships that may continue to grow long after the course is complete.
We have provided you with instructional videos along the way that will clarify information such as: how is a tongue tie released, how do you do a baby's bath, how to syringe feed a baby, what are the best breastfeeding positions, etc.
This is a complete course, beginning with fundamental concepts and progressing to advanced care.
Ages Covered: 0-12 weeks

Number of Classes: 4

Time to take the Class - one month


Based on: Scientific Research, Expert Opinion, and over 28 years of hands-on experience

Mentorship: Available free for all students for a lifetime

Certificate of Completion

Agencies available for placement
The course includes a complete Sleep Conditioning/Training course, Multiples and Preemie Care, and Formula Composition. We also cover Prenatal and Baby Development, along with Failure to Thrive, the Death of a Child, RAD, the Mind of a Child, Communication, why it is important to Go Green with a child, Resume Building, Marketing, and much more.
We will provide you with the knowledge and skills to start your career or business as a Newborn Care Specialist. Gentle Venture's is now offering the names of agencies who are willing to place interns and experienced specialists.
These classes are limited so sign up today and begin your journey into the world of newborns.
Check out our Course Curriculum below by clicking on the title of each course on the right. The Basic NCS course will be the same curriculum.